Regional products for the city – developing logistical processes for regional food value chains
Bionales e.V. not only stands for bringing citizens and producers of regional food into contact – the association also wants to create very concrete structures to bring regionally produced food to the Rhine-Main Metropolitan Region, especially to Frankfurt.
In 2019 we worked with the scientific center of Fulda University of Applied Sciences at the HOLM center to collect data on the (small-)farm agriculture that exists in the region, in order to know who produces what food in and around the Rhine-Main area. In the next step, we developed a strategy paper, which became the basis for a larger project proposal. Since 2021, we receive funding from the Federal State of Hessian for our regional research project.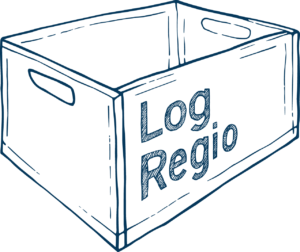 Our vision
To enable dweller of the metropolitan region to buy regional organically produced food (almost) anytime.
Regional food not only strengthens the regional economy, especially in rural areas, but often also produces a smaller environmental footprint than food transported over long distances. Currently, regional food can be sourced particularly at weekly markets, through participation in Solidarity Agriculture (Solawis), or regional vegetable boxes. However, these sources of supply are not accessible on a daily basis, often involve more effort or are obligatory in the long term, which argues against spontaneous shopping. Occasionally, the retail trade (small organic food stores or supermarkets) also sells regional products; however, the offer, especially from (small) farms, is very limited. However, many customers want to have access to regionally and (small-) farm-produced (organic) food at any time.
By building regional B2B and B2C value chains, especially with (small) farmer agriculture of organic products, we want to enable customers to buy regionally produced organic products more easily. We would like to enable (small) farmer*s to sell their goods more easily and directly.
What we want to achieve
B2B (Business-to-Business)
Establishment of B2B value chains with small retail stores (fruit and vegetable stores, health food stores, unpacked stores, etc.), community kitchens, etc.
Establishment of a website where (small) farmer*s can offer their products and thus directly contact retailers, community kitchens, end consumers (see B2C approach), etc.
For orders entered via the website, logistical optimization calculations will generate reasonable transport orders – both from (small) farmers to determined hubs or depots in the city as well as within the city on the so-called last mile.
Transparent presentation of cost components and emissions. We determine "real prices" (incl. internalization of environmental costs), cost components and emissions of regionally produced organic products for the products offered and compare them with non-regionally produced food (both organic and conventional) and make them available to the partners in the value chains as well as to the end customers. Based on this transparency, more awareness is created for the necessity of regional purchases as well as for the composition of food prices.
B2C (Business-to-Consumer)
In order to make it easier for end consumers to get in touch with (small) farmers and thus to improve awareness of environmentally conscious shopping and the work of (small) farmers, we are implementing the following measures and test their implementation:
Establishment of so-called "food assemblies" – customers can order directly from producers via a website and get the products delivered to a certain place on a certain day. In our model, transports are additionally bundled in order to keep costs as well as emissions as low as possible and thus contribute to economic but also ecological sustainability. If possible, transports for B2B and B2C will be combined in order to keep the number of trips to urban areas small. In addition, it should be examined whether empty trips back to rural areas can be avoided.
Establishment of pick-up locations (so-called depots) in the city, so that food boxes can be distributed regularly, but logistically sensible.
Establish (almost) continuously available pick-up locations for food orders.
Transparent presentation of prices and emissions (see B2B approach).
The different measures will be tested and evaluated during the lifetime of the project using pilot processes and applications.
Project partners: BIONALES e.V., University of Applied Sciences Fulda
Associated partners: Organic model regions of the Federal State of Hesse (Ökomodellregionen Hessen)
Wer mehr erfahren möchte, Projektpartner werden möchte oder ein spannendes Thema für seine Masterarbeit sucht, kann sich gerne bei uns melden:
annamara.schoen@bionales.de oder
anna-mara.schoen@w.hs-fulda.de