The Regional Card: a product of our partner Bürger AG, free of charge for all members of BIONALES!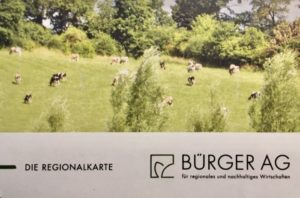 Every member of the association is entitled to The Regional Card of Bürger AG. We have an agreement with Bürger AG that association members receive this card free of charge. The regional card is valid for one calendar year.
Making conscious purchasing decisions is good. It is even better to actively help shape the range of ecologically and fairly produced food from the region. The Regional Card promotes the regional agricultural and food industry and, in addition, sustainably operating companies in Hessen.
With the Regional Card, you become an active supporter of the organic regional economy and can shop in many stores at a discount!